Event Details
Below are the details of the event you selected:
The Art of Banksy/London Leisure Day
Venue: London
Wednesday 17 Nov 2021
Tickets Remaining: 20+
Ticket Prices:
All Ages

£44.00

(Coach only: £29.00)
---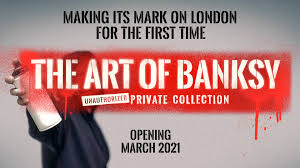 £44 per person Price includes Art Exhibition and Coach
£29 per person Coach only for London Leisure Day
Coach departs from Spalding at 8am, departs from London at 5.30pm
We have timed tickets for the Art Exhibition at 12.30pm. The Art of Banksy holds the world's largest collection of privately owned Banksy art. This globally acclaimed showcase features original and authenticated works associated with, arguably, the most intriguing and talked-about artist in modern history. On display are prints, canvasses, screenprints, sculptures, unique works and limited-edition pieces mainly dated between the years 1997 to 2008, the period which resulted in Banksy's most recognisable and well-known works. The exhibit features iconic works such as 'Girl and Balloon', 'Flower Thrower' and 'Rude Copper' alongside some of Banksy's lesser known masterpieces. Banksy is most infamous for his outdoor art which can be found in streets all around the world. Banksy's indoor pieces - original and unique works on canvas, wood and paper - have been less exposed and are also on display at this exhibition. If you are wanting to take advantage of this day as a London Leisure Day, the nearest underground to our drop off point will be Covent Garden. There will also be free time for those doing the Exhibition.
For up to date information on all our events please visit our
facebook page
Please make sure that you read our cancellation policy before you make a booking