Event Details
Below are the details of the event you selected:
Bury Market and East Lancs Railway
Venue: Bury
Saturday 11 Sep 2021
Tickets Remaining: 20+
---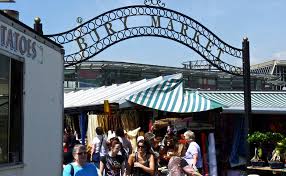 Coach departs from Spalding at 7.30am
Why do hundreds of thousands of satisfied shoppers visit the leading Market in the North West every week? For over five hundred years, Bury Market has dominated the consumer retail sector in the area. Over the past thirty years, retail giants have developed in the vicinity, yet Bury Market remains the undisputed champion of the North, attracting thousands of visitors every week. Quite rightly as the World Famous, Bury Market oozes charisma and atmosphere. The ambience and layout offers visitors the opportunity to seek out and visit every stall. The range of products and facilities is second to none. Bury Market is a very large traditional market in a modern setting. It's a unique shopping experience and great day out. Bury's World Famous Market is open for bargains galore. Quite simply it is the biggest and best market in the North West! Bury Market has great people and great characters and is fully accessible for disabled visitors. Bury Market is a big town centre attraction, from exotic indulgences to everyday necessities you'll find what you are looking for at Bury Market. There is always something to see and do. Bury Town Centre is a great day out for everyone, so why not come along... It's a fun way to shop and it's all there waiting for you. Our train departs from Bury Station at 1450, I will be at the station from 1430 to gather everyone together. This beautifully restored heritage railway puffs through stunning countryside, quaint villages and historic towns. The East Lancashire Railway is a 12-mile heritage steam railway line through the Irwell Valley in northwest England. With its scenic blend of rolling countryside and post-industrial landscapes, the journey gives a taste of what train travel was like in Victorian England. The route stretches between the towns of Rawtenstall and Heywood, stopping off at six stations and skirting the edge of the West Pennine Moors. The original track opened in 1846 at the peak of England's 'railway mania' and is today preserved by more than 600 volunteers. It has access to the mainline too, allowing for a constant turnover of celebrated steam and diesel engines.
For up to date information on all our events please visit our f
acebook page
Please make sure that you read our cancellation policy before you make a booking