Event Details
Below are the details of the event you selected:
Harrogate Autumn Flower Show
Venue: Newby Hall & Gardens, Ripon
Sunday 19 Sep 2021
Tickets Remaining: 20+
---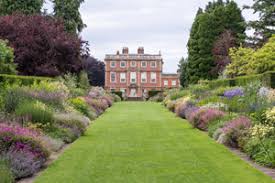 Price includes entrance to show, Newby Hall Gardens and coach
Coach departs from Spalding at 8am
Join us for the 2021 Harrogate Autumn Flower Show at our fabulous new venue, Newby Hall & Gardens. Newby Hall is a jewel in the crown of North Yorkshire with one of the country's finest 18th Century stately homes and was recently voted 2019 Historic Houses Garden of the Year. The really great news is that, in addition to all your favourite show features, admission to the 2021 Harrogate Autumn Flower Show will also include access to Newby's award-winning gardens, complete with some of Europe's biggest herbaceous flower borders, 15 stunning garden 'rooms' and family adventure garden! Our new autumn home at Newby Hall & Gardens has given us a fantastic opportunity to create wonderful indoor floral installations, inspired by the interiors of this beautiful 18th Century house. Our new home at Newby Hall offers a unique opportunity to pick out the plants you love as you tour the fabulous gardens, then visit top plant nurseries from across the country with your shopping list! Autumn is our chance to celebrate all those who dedicate their time to showcasing their passion for gardening! Whether you are looking for oceans of drop-dead gorgeous dahlias or a cornucopia of colourful carnations, you won't find a bigger or better display of autumn blooms anywhere in the UK! Colossal cabbages, monumental marrows and tremendous tomatoes – we are looking forward to another gargantuan battle for top titles in the 2021 NEHS giant vegetable competition. The Harrogate Autumn Flower Show also hosts the Northern Championships for the National Vegetable Society. There will be a cornucopia of classes for onions, carrots, shallots, tomatoes, beans, potatoes, celery, cauliflowers, beetroot and leeks. Reduce your reliance on the supermarket by growing your own garden menu. Find out how to produce great home-grown fruit and veg, and then see what delicious meals you could make with the help of our talented chefs. Visit Life & Style for the perfect opportunity to find that unique gift or spoil yourself with some retail therapy. There are dozens of exhibitors offering everything from children's toys and handmade cosmetics, to stunning artwork and beautiful handcrafted jewellery. The perfect opportunity pick up that extra special present or get a head start of Christmas shopping! Nestling on the side of the River Ure, between Harrogate and Ripon, Newby Hall is one of the finest stately homes designed by the famous 18th Century architect Robert Adam. Its herbaceous borders are among the longest in Europe and were created by the late Major Edward Compton as the centrepiece for some 25 acres of award-winning gardens, designed and planted as 'rooms' to provide year-round interest. The borders have recently been completely replanted in beautiful pastel shades and will be in their full glory for the flower show! Among Newby's 15 different 'rooms' are a rose garden, water garden, tropical garden, white garden, rock garden, woodland garden and, of course, an autumn garden where hydrangea, salvia, sedum, echinacea, verbena and some 800 dahlias provide one last hurrah until the first frosts of October.
For up to date information on all our events please visit our
facebook page
Please make sure that you read our cancellation policy before you make a booking