Event Details
Below are the details of the event you selected:
The World of James Herriot & Knaresborough
Venue: Thirsk & Knaresborough
Wednesday 08 Sep 2021
Tickets Remaining: 20+
---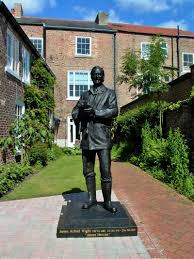 Price includes entrance and coach
Coach departs from Spalding at 8am
Our first stop will be Thirsk where you will be able to have a look around the small town of Thirsk and visit the 'World of James Herriot' (entrance included). The all-weather, multi award-winning tourist attraction, open all year round with so much to see and do for all ages! They are one of Yorkshire's top tourist attractions, covering the life and work of James 'Alf' Wight - the legendary local vet whose books, written under the name 'James Herriot', thrilled millions all over the world and still do today. Set in the beautiful market town of Thirsk, North Yorkshire - the heart of Herriot Country and Channel Five's Yorkshire Vet TV programme - our attraction is the perfect location with excellent disabled access to all parts, with the exception of the air raid shelter. With everything housed indoors in our beautifully restored 1940s house and surgery, this is truly an all-weather attraction. Experience what it was like to be a vet in a busy country practice. Wander through the real Skeldale House and try your hand at acting on a mock-up studio set from the TV series All Creatures Great and Small. You can also explore the world's largest collection of Herriot memorabilia. At 2pm we will make our way to Knaresborough where you will have free time. Knaresborough is full of surprises, a warren of medieval streets and stone staircases that weave their way up and down the hill. The town centre is perched on the cliffs above the River Nidd and the imposing railway viaduct across the Nidd Gorge offers an amazing view to visitors. The market place in the centre of the town offers a great place to enjoy a cup of tea or something delicious and home baked At the base of the cliffs on which the town sits, you will find a delightful promenade that traps the sun in summer, with a coastal feel despite being more than 60 miles from the sea making a great place to enjoy an ice-cream or indulge in the tradition English pastime of 'simply mucking about in boats'.

For up to date information on all our events please visit our
facebook page
Please make sure that you read our cancellation policy before you make a booking