Event Details
Below are the details of the event you selected:
Bakewell Market & Judith Mary II Canal Boat
Venue: Bakewell & Whaley Bridge
Monday 20 Sep 2021
Tickets Remaining: 20+
---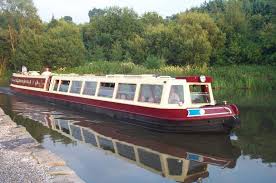 Price includes two course meal on the boat and coach
Coach departs from Spalding at 8am
The beautiful Peak District town of Bakewell has had a market since 1330. The town's Livestock and Stall Markets continue to attract tourists and visitors, as well as providing an essential service to the local community. The Monday market in the centre of the town boasts around 100 stalls. Bakewell is a major tourist attraction, situated on the River Wye in Derbyshire and in the heart of the Peak District. Bakewell attracts many tourists both local and from abroad to the large town centre which is busy all year round with plenty of attractions including gardens, museums, arts and crafts, pubs, coffee shops, and numerous shops selling books, clothes and gifts. The famous Bakewell pudding was invented accidentally at the Rutland Hotel, when a cook misinterpreted instructions and poured egg mixture over the jam instead of mixing it in the pastry and what should have been a tart was now a pudding. Bakewell puddings can be bought at several shops and coffee houses in the town centre. The Hotel also has a literary connection in that Jane Austin is reputed to have stayed at the hotel whilst writing Pride and Prejudice. Bakewell has been identified as Lambton. We then make our way to Whaley Bridge to join the Judith Mary II. The Judith Mary is a family run 72 foot long canal boat which has been running for 36 years. It is fully central heated and has a well-stocked licensed bar, also offering tea and coffee and toilets on board. All meals are inclusive of a two hour cruise along the beautiful Upper Peak Forest Canal, situated in Whaley Bridge, High Peak, only 16 miles from Manchester, 6 miles from Buxton and 29 miles from Sheffield. The menu choices are as follows: Beef Hot Pot (Home-made Local Beef Hot Pot Served with red cabbage and French bread), Broccoli and stilton bake (Home-made Broccoli and Stilton Bake Served with seasonal vegetables/salad (Suitable for vegetarian and Gluten free diet)), Two meat plated salad (Roast ham and turkey served with salad, new potatoes, quiche, sausage roll and bread roll) Dessert is Apple Pie and cream. Please let us know your selection when booking, if booking online please email your request to lorraine@hallamtravel.co.uk.
For up to date information on all our events please visit our
facebook page
Please make sure that you read our cancellation policy before you make a booking