Event Details
Below are the details of the event you selected:
The Norfolk Lights Express
Venue: Sheringham
Wednesday 09 Dec 2020
Tickets Remaining: 20+
---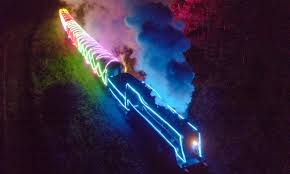 Price includes train and coach
Coach departs from Spalding at 11.30am, there will be free time in Sheringham before our train departure at 4.30pm
Departing Sheringham, under the cover of darkness, The Norfolk Lights Express, fully decorated with multi-coloured lights, will steam its way through the countryside between Sheringham and Holt. From the comfort of plush carriage seats, you will be treated to an amazing light show with illuminated festive scenes nestled within lineside woodland, cuttings, embankments and our preserved stations alike. A complete range of refreshments including a licensed bar will be available on board. Please be aware that The Norfolk Lights Express includes flashing lights which may not be suitable for those with Photosensitive or Light Sensitive Epilepsy.
For up to date information on all our events please visit our
facebook page
Please make sure that you read our cancellation policy before you make a booking