Event Details
Below are the details of the event you selected:
Hogwarts in the Snow
Venue: Leavesden
Sunday 20 Dec 2020
Tickets Remaining: 20+
Ticket Prices:
up to 15 yrs

£63.00

16+ yrs

£72.00
---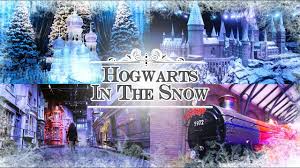 All prices include entrance and coach
Coach departs from Spalding at 9.30am
Join us to experience Christmas in the Wizarding World as Hogwarts in the Snow returns to the Studio Tour. The festive transformation will begin in the Great Hall, which will be lined with Christmas trees decked with golden baubles and topped with witches on miniature broomsticks. The long dining tables will be dressed as they were for seasonal feasts at Hogwarts, complete with Christmas puddings surrounded by real flames. Discover the stage decorated as it was for the iconic Yule Ball scene, as seen in Harry Potter and the Goblet of Fire and get a taster of this incredible set dress featuring snow-covered Christmas trees, icicles and an orchestra of magical instruments. Discover how filmmakers created snow that never melts and flames without fire as you get hands on with the different types of filmmaking 'snow', each selected for its ability to float like falling snow, crunch under foot or glisten in the light like ice. As you make your way around the Studio Tour, look out for the 'lit' fireplaces and discover how fire was created on-screen by the Special Effects team using a combination of water vapour and lighting effects. During Hogwarts in the Snow, many of iconic sets will receive a festive makeover, including the Gryffindor common room and Boys' dormitory which will be decorated with original props from the Harry Potter film series. The Weasley kitchen set will also be dressed for the occasion with streamers, Christmas crackers and a festive feast. The Hogwarts castle will be transformed as the breathtaking model is covered with a layer of filmmaking snow. During filming, a member of the crew sprinkled the 'snow' mixture of granulated paper and grains of salt onto the model by hand with a sieve – like dusting sugar onto a cake. The same process is used to decorate the model for the festive seasons during Hogwarts in the Snow.
For up to date information on all our events please visit our
facebook page
Please make sure that you read our cancellation policy before you make a booking