Event Details
Below are the details of the event you selected:
The Homes of the Rich and Famous River Cruise and lunch
Venue: Maidenhead
Wednesday 26 May 2021
Tickets Remaining: 20+
---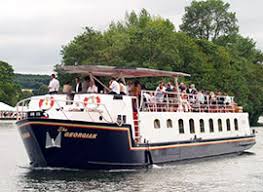 Price includes 2 course fish and chip lunch, 3hr river cruise and coach
Coach departs from Spalding at 8.30am
Take a glimpse into the world of celebrities, captains of industry and commerce, oil rich Arabs, the aristocracy and assorted lottery millionaires. Enjoy the homes of the rich and famous as you cruise along the River Thames. The Homes of the Rich and Famous cruise lets you into the secrets of the inhabitants of some of the finest waterside houses in the country. Firstly depart from Maidenhead Riverside Gardens, near the bridge before cruising past the old home of Diana Dors, scene of many a riotous party, then entering Cliveden Reach, where the majestic home of the Astor family lies on the top of the hill, the starting point for the 'Profumo Scandal'. Lunch shall be served as we cruise through the Cliveden Reach. After lunch we pass the Waterside Inn, famed hostelry of the Roux brothers, the homes and former homes of Rolf Harris, Billy Connolly, Sheila Ferguson of the Three Degrees, Gerald Ratner, and Sir John Mills. Finally was be cruise enjoy stories of the notorious 'Botany Bay', the Thames' very own 'red light' district, the pretty cottage of Edward VII's mistress, Lillie Langtry and much more! Lunch will be, freshly fried white fish in a light beer batter, chunky steak cut chips, homemade tartar sauce, minted pea puree, followed by apple flan and cream. The chef is happy to cater for your dietary needs. However please confirm any requirements when booking to insure your food is available on the day.
For up to date information on all our events please visit our
facebook page
Please make sure that you read our cancellation policy before you make a booking