Event Details
Below are the details of the event you selected:
Ely Leisure Day
Venue: Ely
Saturday 08 May 2021
Tickets Remaining: 20+
---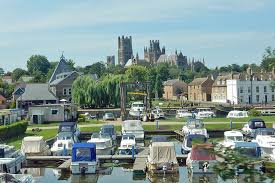 Coach departs from Spalding at 9.30am and departs from Ely at 4pm
Nestling under the big skies of the Fen countryside, in the shadow of its magnificent cathedral, Ely offers a wealth of attractions. As the second smallest city in England, it is compact enough to explore on foot, but large enough to fill a full day and more. The first port of call for any visitor to Ely today will almost certainly be the Cathedral. This imposing structure towers across the fens for miles around. Dominating the skyline, it is one of England's most beautiful and largest Cathedrals. Known locally as the 'Ship of the Fens' it is famous for its unique Octagon tower, which when lit can be seen for tens of miles. The Cathedral is also home to the only national museum dedicated to Stained Glass. If it's history you're interested in then Ely Museum, housed in the city's old gaol, is an excellent place to start. Ely's most famous historical resident was of course Oliver Cromwell. The Cromwell family lived in Ely for some 10 years and today you can visit their former house which has been recreated to demonstrate what 17th Century domestic life would have been like along with an exhibition on the civil war. It also doubles as the Tourist Information Centre. Ely has a beautiful waterside area, which is an attraction within itself, where you can explore the many cafes and restaurants or visit the art galleries. Alternatively, simply take time out to relax and watch the river boats pass by.
For up to date information on all our events please visit our
facebook page
Please make sure that you read our cancellation policy before you make a booking