Event Details
Below are the details of the event you selected:
Andre Rieu and his Johann Strauss Orchestra
Venue: Resorts World Arena, Birmingham
Saturday 30 Apr 2022
Tickets Remaining: 1
---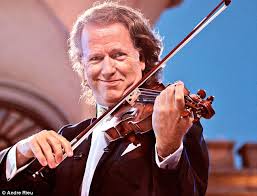 Includes seat within the first 10 rows of Block 2,3 or 15 and coach
Coach departs from Spalding at 4pm
André Rieu, the Dutch "King of Waltz" who has made classical music accessible to ordinary people, will bring his Johann Strauss Orchestra back to the UK and Ireland in April and May. Dubbed the Maestro of the Masses (New York Times) and a Weapon of Mass Happiness (The Spectator), André Rieu returns with his 60-piece Johann Strauss Orchestra, the largest private orchestra in the world, the Platin Tenors and many international soloists. The audience can look forward to fantastic melodies from film, musical, opera and operetta as well as traditional music and of course they are invited to waltz the night away in an unforgettable evening of music and dance. André Rieu firmly believes that classical music is made for everybody to enjoy, not just for an elite. At his concerts everything is allowed: laughing, weeping, singing, dancing in the aisles.

For up to date information on all our events please visit our
facebook page
Please make sure that you read our cancellation policy before you make a booking