Event Details
Below are the details of the event you selected:
China's First Emperor and the Terracotta Warriors
Venue: Liverpool World Museum
Saturday 29 Sep 2018
Tickets Remaining: 7
Ticket Prices:
up to 5 yrs

£32.00

6 - 17 yrs

£37.00

18 - 59 yrs

£45.00

60+ yrs

£44.00
---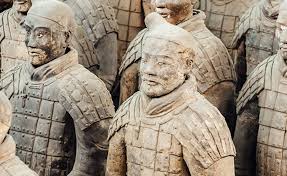 All prices include entry to exhibition and coach
Coach departs from Spalding at 7am, departing from Liverpool at 6pm.
For over 2,000 years, an underground army of life-sized terracotta warriors secretly guarded the tomb of China's First Emperor, Qin Shi Huang, until a chance discovery in 1974 unlocked the mysteries of a vanished empire. Showcasing objects from one of the world's greatest archaeological discoveries, this unmissable exhibition spans almost 1,000 years of Chinese history; from the conflicts and chaos of the Warring States period, to the achievements and legacy of the Qin and Han dynasties. The exhibition will include a number of objects that have never been on show in the UK before including material from museums and institutes from across Shaanxi Province, excavated over the last 40 years from the Imperial Mausoleum and selected tombs. These spectacular artefacts will shed light on the Emperor's pursuit of immortality and show how he prepared for the afterlife, as well as help us to understand more about everyday life in China more than two thousand years ago.
For up to date information on all our events please visit our
facebook page