Event Details
Below are the details of the event you selected:
Regent Street Motor Show/London Leisure Day
Venue: Regent Street, London
Saturday 03 Nov 2018
Tickets Remaining: 16
---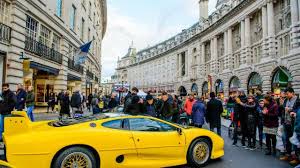 Coach departs from Spalding at 8am, and departs from London at 6pm
Get up close to classic and futuristic vehicles at the Regent Street Motor Show, the largest free motor show in the UK. Showcasing 125 years of motoring history, hundreds of vehicles go on display in the famous shopping street. Check out the latest sports cars and motorbikes, see classic automobiles dating back to the early 20th century and find out about the latest low-emission technologies. Plus, enjoy music, dance performances and motorcycle stunt shows all along the traffic-free street. This interactive celebration of motoring is perfect for car enthusiasts and families, as well as West End shoppers looking for a fun distraction. If you are not interested in the motor show this day can be used as a leisure day, we will drop off in Hanover Square, ideal for Oxford Street or Oxford Circus underground.
For up to date information on all our events please visit our
facebook page