Event Details
Below are the details of the event you selected:
Kew Gardens
Venue: Kew, London
Saturday 22 Sep 2018
Tickets Remaining: 15
Ticket Prices:
up to 3 yrs

£26.00

4 - 16 yrs

£31.00

17 - 59 yrs

£41.00

60+ yrs

£39.00
---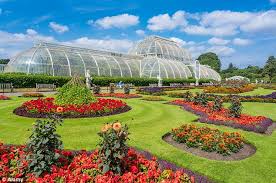 All prices include entrance and coach
Coach departs from Spalding at 8am
Exotic flowers, wild meadows and a walk among the treetops in leafy west London. The Royal Botanic Gardens at Kew are 250 years old, but there's plenty here for the modern outdoor adventurer. You can still wander the old Victorian Palm House and indulge in a little old-fashioned promenading like someone in a BBC costume drama, but these gardens, originally developed in the back yard of the royal palace favoured most by George III, are one of two national bases for research and education into botanical studies. So while you're seeking out the luscious flora (including the giant, stinking Titan Arum in the Princess of Wales Conservatory), there are scientists beavering away in labs and offices, out of sight. Each of the glasshouses has a different, maintained climate, designed to nurture everything from the world's largest water lilies to delicate Alpine flowers to tropical blooms. If you've got a head for heights, take the Tree Top Walkway where you get a bird's eye view of some of the park's centuries-old trees, then stroll down to the Chinese Pagoda, built in 1762. Towering over the southern end of the Gardens, it must have been an awesome and strange sight to eighteenth century Londoners. Come here to be inspired for your next garden makeover or to stroll the vast landscape of formal gardens, but then make time to seek out sculptures like Henry Moore's 'Reclining Mother and Child' in a stunning setting that changes with the light of each season. There's plenty to do. In fact, art alone could take up your entire visit – see the Eduardo Paolozzi sculpture 'A Maximis Ad Minima' and visit the Marianne North Gallery and the Shirley Sherwood Gallery of Botanical Art, all included in the main entry price. Whenever you visit Kew Gardens, there's something in bloom. The website has a dedicated 'what to see this week' section, so even in autumn or winter, you can be assured you won't just see a lot of old twigs.
For up to date information on all our events please visit our
facebook page