Event Details
Below are the details of the event you selected:
Thursford Christmas Spectacular
Venue: Thursford
Sunday 09 Dec 2018
Tickets Remaining: 1
---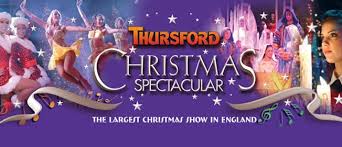 Price includes deluxe seating and coach
Coach departs from Spalding at 11.30am
Please note that children under 4 years are not admitted to the show and there is a strong advisory for children between 4 and 8, they do need to be able to sit still and not talk throughout the 3 hour show and not rustle sweet papers. Thursford are very strict on these rules
This Christmas Spectacular is the largest Christmas show in the country! Set in the magical surroundings of mechanical organs and fairground carousels, with a cast of 130 professional singers, dancers and musicians – many of whom are West End performers. The 3 hour performance delivers an extravaganza of non-stop singing, dancing, music, humour and variety. It's a fast moving celebration of the festive season featuring an eclectic mix of both seasonal and year-round favourites, with famous and much-loved chart toppers being sung alongside traditional carols. Word of this amazing show has spread and it is now generally recognised as being the largest show of its kind in the country, if not Europe.
For up to date information on all our events please visit our
facebook page