Event Details
Below are the details of the event you selected:
Lincoln Christmas Market/Shopping/Leisure Day
Venue: Lincoln
Friday 07 Dec 2018
Tickets Remaining: 20+
---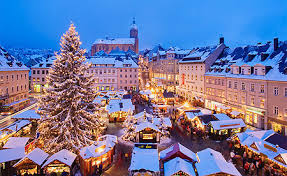 Coach departs from Spalding at 10am, departing from Lincoln at 5.30pm
Lincoln's Cathedral Quarter is taken over by stalls, entertainers and seasonal themes for four days of festive entertainment and shopping at the famous Lincoln Christmas Market. Visitors to Lincoln's famous Christmas Market will be sure to soak up the festive atmosphere across this large market site, with more than 280 stalls nestled in and around Lincoln Castle, Lincoln Cathedral, the Lawn complex and many other venues and streets along the way. There is something for everyone, from unusual gifts to food and drink from near and far, not to mention a whole host of entertainment for all the family to enjoy. Enjoy the scents of mulled wine and freshly cooked food, the sounds of entertainment, music and merriment and the sights of this market in this stunning, historic city. Also, don't miss the Medieval Christmas Market at the Medieval Bishops' Palace, and the Christmas Artists' Village at St Martin's Square for more unique, festive markets during the weekend.
For up to date information on all our events please visit our
facebook page