Event Details
Below are the details of the event you selected:
York Shopping/Leisure Day
Venue: York
Sunday 19 Aug 2018
Tickets Remaining: 20+
---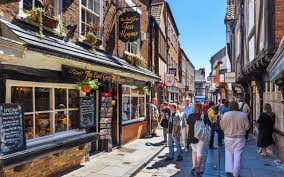 Coach departs from Spalding at 8am
A marvel of ancient walls, medieval streets, dazzling museums and a spectacular minster, it's no wonder York is one of England's most-visited cities. There are few places in the world quite so densely packed with history and character as York. This captivating 2,000-year-old walled city is capital of the county of Yorkshire, in northeast England. Its near-perfectly preserved medieval walls rise above a maze of twisting, cobbled alleyways filled with crooked timber-framed buildings, traditional pubs and sandstone churches. Every street is riddled with history. Two Roman emperors died here. Another was crowned. European Christianity began in York, and the city has seen Viking occupation, Norman influx, uprising and Civil War. But even more remarkable is how alive all those layers of history still feel here. Ancient sites jostle for space, interactive museums recreate past eras, and events like Europe's biggest Viking Festival bring vanished cultures vividly back to life. Get an overview of the city's historic heart by walking along its lengthy 13th century walls, the most complete medieval city walls in England, punctuated by 45 towers and five gatehouses that overlook the crowded city below. In the heart of it all rises the huge and breathtaking York Minster, the largest Gothic cathedral in England, home to excavated Roman barracks, priceless treasures and the world's biggest medieval stained-glass windows. World-class museums are almost embarrassingly plentiful here. The superb JORVIK Viking Centre famously recreates a 9th century Viking town. The gigantic National Railway Museum is home to some of history's most iconic trains, from the fastest steam locomotive to Queen Victoria's 'Palace on Wheels'. Also excellent are York Castle Museum, housed in a former debtors' prison; Clifford's Tower, a remnant of the 13th century castle; and the Yorkshire Museum with its glittering Viking treasure trove and dinosaur fossils. If museums aren't your thing, then experience York's incredible history with a live-action horror show at The York Dungeon, or take a hair-raising ghost walk in the city that claims to have invented them. But beware. York is apparently the most-haunted city in Europe. A truly unique shopping destination, York has everything from quaint little shops in old wooden-framed buildings to chic boutiques and huge malls. Don't miss The Shambles, a ridiculously photogenic medieval street filled with old-fashioned curiosity shops, antique sellers, fudge-makers and more. Then there is the food. Not least, the chocolate! Get a taste of the city's 300-year romance with cocoa at York's Chocolate Story, then explore the many artisan chocolatiers and cocoa houses. Discover delightful old-world teashops like Art Deco institution Bettys, eat hearty food with locally brewed beer in cosy pubs or eat in excellent gourmet restaurants near the river.
For up to date information on all our events please visit our
facebook page