Event Details
Below are the details of the event you selected:
Savill Gardens and Frogmore House
SOLD OUT
Please contact us to be put on the waiting list in case of cancellations
Venue: Windsor Great Park
Saturday 18 Aug 2018
Tickets Remaining: 0
---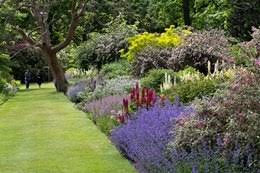 Price includes entry to Savill Gardens, guided tour of Frogmore House and Coach
Coach departs from Spalding at 8am
The
Savill Garden
is one of Britain's greatest ornamental gardens. It never fails to charm visitors who come to explore its 35 acres of contemporary and classically designed gardens and exotic woodland. Developed under the patronage of Kings and Queens, The Savill Garden was created in the 1930s by Sir Eric Savill. The Savill Garden is a place of constant discovery, and of interlocking gardens, containing distinctive areas such as Spring Wood, The Summer Wood, The Hidden Gardens, The Summer Gardens, The Glades, Autumn Wood, The Azalea Walks and The New Zealand Garden. The Savill Garden mixes native and exotic species and has bred many important garden hybrids. Each 'garden within a garden' has its own attractions, and the gardens are ever-changing with every season bringing new colour and interest to delight the visitor. The Rose Garden takes a fresh and contemporary approach to displaying roses. The design creates an intense sensory experience with roses especially chosen for their scent, strong colours and repeat flowering. Visitors enjoy the perfume at its best, together with stunning views, from a walk way which appears to 'float' above the Rose Garden. During the summer opening of
Frogmore House
and Garden to group visitors, guided tours are offered of this delightful royal retreat, set in the beautiful surroundings of the private Home Park about a mile from Windsor Castle. The tours provide an insight into the history of this royal residence and the lives of its occupants. Frogmore House has been a favourite royal retreat for more than 300 years. Built in the 17th century, it became royal property when it was purchased for George III's wife, Queen Charlotte, in 1792. It is no longer an occupied royal residence, but is frequently used by the Royal Family for private entertaining. The tour ends in the Britannia Room, where, following the decommissioning of the Royal Yacht in 1997, The Duke of Edinburgh arranged a selection of items to reflect the interior of the much-loved vessel. The rich mahogany table that dominates the room was made for Britannia in the 1950s.
For up to date information on all our events please visit our
facebook page