Event Details
Below are the details of the event you selected:
Emmerdale - The Village Tour
Venue: Harewood
Sunday 22 Jul 2018
Tickets Remaining: 1
---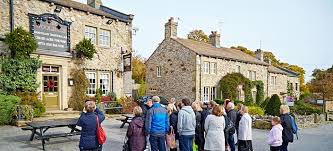 Price includes entrance, guided tour of the village and coach
Coach departs from Spalding at 9am
Our day starts with free time in Wetherby for a lunching opportunity. The Emmerdale Village Tour is an outside, fully guided walking tour and guests are advised to wear appropriate footwear and clothing. You can now experience the live, working TV set located within the Harewood Estate in Leeds, that has played witness to many-a spectacle. Visitors will be able to marvel at the beauty the picturesque farming village boasts as they meander down the lane to the surreal sight of stone cladded shops and homes nestled amongst the rolling hills. Sauntering past the familiar haunts of Bob's Café, The Woolpack, the village Church and rows of stone cottages known as home for over 43 years to your favourite Emmerdale characters, guides will share secrets, stories and reveal fascinating facts behind the making of the, multi award winning, ITV soap.
For up to date information on all our events please visit our
facebook page