Event Details
Below are the details of the event you selected:
Oulton Broads and Two Course Carvery Lunch
Venue: Oulton Broads
Wednesday 18 Jul 2018
Tickets Remaining: 20+
---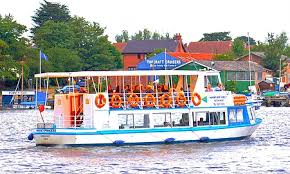 Price includes 2 course carvery lunch, 2hr boat trip and coach
Coach departs from Spalding at9am
Enjoy a two course carvery lunch at the Wherry Hotel situated on the shores of Oulton Broad with excellent views. After lunch we will join the Waveney Princess at Mutford lock for our two hour cruise. Cruise the length of picturesque Oulton Broad from the restored sea lock to Oulton Dyke. Then follow Sir Morton Peto's historic railway line through the Waveney Valley to the quaint Victorian railway swing bridge still in use at Somerleyton.
For up to date information on all our events please visit our
facebook page