Event Details
Below are the details of the event you selected:
Black Country Living Museum and Dudley Canal
Venue: Dudley
Saturday 14 Apr 2018
Tickets Remaining: 20+
Ticket Prices:
up to 4 yrs

£25.00

5 - 18 yrs

£38.00

19 - 59 yrs

£44.00

60+ yrs

£41.00
---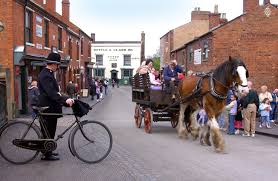 All prices include entrance to all attractions and coach
Coach departs from Spalding at 8am
The story of the Black Country is distinctive because of the scale, drama, intensity and multiplicity of the industrial might that was unleashed. It first emerged in the 1830s, creating the first industrial landscape anywhere in the world. It is this that they rejoice in and want to share with you. The award-winning corner of the West Midlands is now one of the finest and largest open-air museums in the United Kingdom. After very humble beginnings, a bright idea and 40 years of inspiration, this is twenty six acres worth exploring. Amazing as it may seem, they have created a 'place' – a real and lively place, where once there was nothing and nobody. With a village and charismatic residents to chat with. Trams to ride. Games to play. Things being made. Stories to hear. People - their triumphs to admire and troubles to be thankful that are not ours. Time to be well spent. If you are old enough, you may just be looking for nostalgia and that is fine. But equally, we believe that history shouldn't be seen as a safe haven in a fast changing and challenging world, but a catalyst for thinking and reflection about our own lives. We hope you have a fabulous and thought-provoking time. Also included in your day is an underground boat trip into the world famous Dudley Canal Tunnel and Limestone Mines. This unique Canal Tunnel connects with a 200 year-old system of limestone mines, branch tunnels and open ivy curtained canal basins. It is now the only remaining example open to the public of the Black Country's lime mining heritage. Two underground audio-visual shows and a skipper-guided tour bring the history of this hidden world to life.
For up to date information on all our events please visit our
facebook page