Event Details
Below are the details of the event you selected:
Cadbury World
SOLD OUT
Please contact us to be put on the waiting list in case of cancellations
Venue: Bournville
Saturday 17 Mar 2018
Tickets Remaining: 0
Ticket Prices:
up to 3 yrs

£25.00

4 - 15 yrs

£36.00

16+ yrs

£38.00
---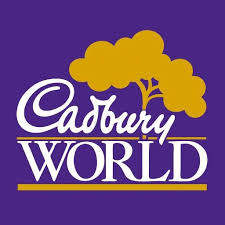 All prices include entrance to all attractions and coach
Coach departs from Spalding at 8.30am
The next best thing to visiting the fictional Charlie's Chocolate Factory is the real thing at Cadbury World. As Charles M Schulz of Peanuts fame said, "All you need is love. But a little chocolate now and then doesn't hurt." We couldn't agree more. No self-respecting chocolate lover can claim to have lived life to the full until they've sampled Cadbury's many famous delights. That's probably why half a million chocoholics visit Cadbury World every year. This is no ordinary factory visit. You can discover the secrets behind Cadbury's Dairy Milk launched in 1905, and have the chance to add your own extras like jelly babies, or mint chips to warm liquid chocolate to make your Cadbury creation. It has 14 zones, where you can play in chocolate rain and have warm liquid Cadbury Dairy Milk poured over your favourite treat. See the Cadbury pack-and-wrap process on the new 3D cinema screen and then meet 'Flex6' the robot at the factory as he shows how he wraps those famous Cadbury bars. So, go on, indulge yourself and the whole family with a chocolate treat.
For up to date information on all our events please visit our
facebook page