Event Details
Below are the details of the event you selected:
RHS Hampton Court Flower Show
Venue: Hampton Court Palace, East Moseley
Sunday 08 Jul 2018
Tickets Remaining: 8
Ticket Prices:
up to 15 yrs

£27.00

16+ yrs

£55.00
---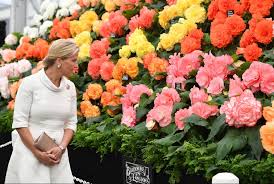 All prices include entrance and coach
Coach departs from Spalding at 8am
Experience the world's largest annual flower show in the setting of the historic palace at the RHS Hampton Court Palace Flower Show. Explore innovative show gardens and snap a picture of the stunning flower displays. Watch demonstrations by both celebrity gardeners and chefs around the showgrounds. Plus, get tips on gardening in a changing climate and shop for garden supplies to create your own little oasis at home. Run by the Royal Horticultural Society (RHS), who also manage the Chelsea Flower Show, the Hampton Court Palace Flower Show attracts around 130,000 visitors every year. The RHS judges reward the best garden designs and floral exhibits on the first day of the show; see if you agree with their choices.
For up to date information on all our events please visit our
facebook page