Event Details
Below are the details of the event you selected:
Bury St Edmunds
Venue: Bury St Edmunds
Wednesday 18 Apr 2018
Tickets Remaining: 20+
---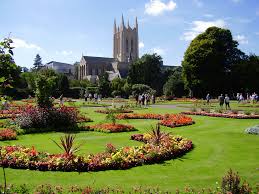 Coach departs from Spalding at 9am
Bury St Edmunds is a picturesque, thriving market town, which brings together the old and the new and this is one good reason why you should visit Bury St Edmunds. Why not visit the ruins of the medieval abbey which is just a short walk from the expanding arc shopping centre, the popular Cornhill Walk or the side streets in the Medieval Grid with an overall offering of a mix of national brands and a range of independent boutiques, salons and spas. Named after St Edmund, martyred in 870, Bury St Edmunds still proudly cherishes The Abbey, which is believed to house his remains, making it an important pilgrimage site. Bury St Edmunds has Suffolk's only cathedral, and the only remaining Regency Theatre in England. Its American connection is with Martha's Vineyard, whose discoverer named it after his Bury born daughter in 1602. Amidst its history, Bury St Edmunds boasts a host of venues for eating, drinking, shopping, and relaxing, making it a great place to visit. The market town of Bury St Edmunds,with its impressive produce market every Wednesday and Saturday, is nestled in the heart of Suffolk. It is known for the Abbey Gardens, which is a ruined abbey right in the town centre. Bury is a very popular destination for tourists and locals to the surrounding area, the main reason for that is its array of shops, eateries and tourist attractions. Visit the old side of the town and see the Cathedral in all its glory, the medieval quarter of the town and the Abbey Gardens itself. While in the newer side of the town you can browse the large assortment of shops, restaurants entertainment centres.
For up to date information on all our events please visit our
facebook page