Event Details
Below are the details of the event you selected:
Snowdrops at Walsingham
Venue: Walsingham
Saturday 17 Feb 2018
Tickets Remaining: 20+
Ticket Prices:
up to 2 yrs

£21.00

6 - 16 yrs

£24.00

17+ yrs

£26.00
---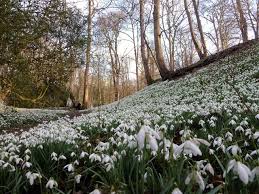 All prices include coach and entrance
Coach departs from Spalding at 9.30am
For the month of February, this is one of the real draws to Walsingham Priory and something definitely worth visiting. Carpets of snowdrops cover much of the 18 acres of woodland that surround this inspiring Priory ruin. To enter the grounds you need to pass through the entrance of what was the Shirehall in the village square, look straight ahead and you'll see the old courtroom. Your entrance fee pays for you to wander in here. Sit in the Judge's chair and see what it feels like to pass sentence! Amazingly, this court room was used until as late as 1971. There are also some interesting displays of artefacts and photos in a couple of other rooms. As you exit out of the building, you come face to face with the remains of the stunning east window of the Priory. The grounds here are really lovely. Following the well-trodden paths, you can wander around the Priory remains, amble over the ancient Packhorse Bridge, meander through the wood and under the Dell Gate into the dell to see the swathes of snowdrops. They are a fantastic sight to see, going as far as the eye can see. Everywhere you look you'll see snowdrops! Once out of the dell, walk by the very pretty River Stiffkey, on past the main private house to your right (the Abbey) and head towards the large village church in front of you. Once at the church you can take a very short (and I mean short!) circular walk over the river and back towards the priory ruin by the wildflower meadow. It's a real pleasure to walk here, in the peace and quiet of the ruins. It's a very serene place, and you get a feeling of complete relaxation, whether it's to do with being in the grounds of a religious building or whether it's just the beautiful surroundings, I know not! But I urge you to come and take some time out of your busy schedule and enjoy this peaceful place whilst it's open.
For up to date information on all our events please visit our
facebook page