Event Details
Below are the details of the event you selected:
Phil Collins - Not Dead Yet Tour
Venue: Genting Arena, Birmingham
Sunday 03 Dec 2017
Tickets Remaining: 20+
---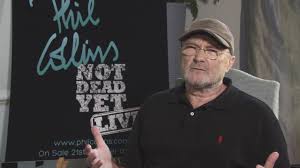 Price includes seat in Block 2 and coach
Coach departs from Spalding at 4.30pm
Child actor, former drummer/vocalist with classic rock giants Genesis and jazz fusion pioneers Brand X, Phil evolved into the multi-platinum selling 'white soul boy' whose albums ruled over the 80s charts. However, it all seemed over when by 2009 he announced he would never be able to play the drums again due to a major spinal injury. He hasn't released an album since 2010's Motown covers collection Going Back and that seemed like it would be his last. But take a look at him now! Against all odds, in 2015 Collins announced 'I'm no longer officially retired. The horse is out of the stable and I'm raring to go.' Following a deluxe reissue campaign of some his classic 80's albums, Collins is back playing live, from Hyde Park to the Royal Albert Hall and beyond. He's had to put the drum sticks down, but he's still wowing crowds with the unmistakable voice and his classic songs.
For up to date information on all our events please visit our
facebook page