Event Details
Below are the details of the event you selected:
Bembridge Coast Hotel - 4 night break
Venue: Bembridge, Isle of Wight
Monday 18 Jun 2018
Tickets Remaining: 10
Ticket Prices:
All Ages

£399.00

(Deposit: £70.00)

Full payment due by Monday 26th March 2018
---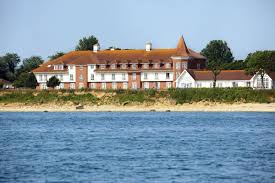 Enjoy an adult-only (over 21's) break with Warner Leisure Hotels. Bembridge Coast Hotel is a first-rate modern hotel which sits on a secluded eastern shore off the Isle of Wight just metres from the glistening Solent. Take a stroll around 23 acres of grounds and the elegantly landscaped gardens or sit in our Solent Coffee Lounge watching the yachts out at sea. There is an abundance of activities to keep you on your toes such as Crossbow, Badminton and Falconry, or dip into the pool and treat yourself to a beauty treatment. For dinner enjoy a Mediterranean experience dining in the Four Tides Restaurant followed by an evening full of entertainment. Dance the night away to the lively music or have a rib tickling time with the comedians. With so many daily acitivites too choose from there will be something for you! Why not try your target skills with rifle shooting and archery? There are also falconry shows which are sure to entertain you, watch them fly around then get the chance to hold one of the magnificent birds. If your break is more about relaxing at Bemrbidge there is an indoor heated swimming pool with a choice to use the steam room, sauna and even a tropicarium. The beauty team members are always on site to pamper you with facials, massages and decléor treatments.
Day 1
– Depart from Spalding at 8am, arriving at the Bembridge Coast Hotel about 4pm
Day 2
– Osborne House. Spend a summer's day strolling through the Italianate gardens and exploring the stunning rooms of Osborne House. Let's be honest; we've all dreamt of owning a 'holiday home', where you can escape the nine-to-five for a few days. Well that's pretty much what this place was to Queen Victoria – but with 342-acres of formal grounds instead of the cosy cottage garden that the rest of us have in mind. Still, who's complaining? Since it was opened to the public 1904, Osborne House has been the perfect place to spend a warm summer's day. Victoria and her husband, Albert, designed Osborne House as a family home in 1845, and there's a surprisingly cosy, relaxed feel about it all – courtesy of the sumptuous soft furnishings. As you'd expect, though, the rooms are still packed with mementos of Victoria's vast empire. You can't move in the exotic Durbar Room without seeing a silver vase, Agra carpet or miniature Indian palace.
Day 3
– Island Tour. A tour of the Island with a qualified tour guide
Day 4
– Shanklin & Godshill. A cliff lift links Shanklin town with the Esplanade and a road train operates between the seafront, town centre and the Old Village. A stroll along Shanklin's High Street and Regent Street will reveal a range of cafes, restaurants and individually owned shops, while the thatched cottages of the Old Village offer the visitor a range of tea rooms and unique gift shops. Godshill is the quintessential English Village, and boasts some of the oldest architecture on the Isle of Wight. With its delightful medieval church, charming thatched-roofed cottages and a winding main-street lined with traditional tearooms, Godshill is as picturesque as it is popular. It is also known for being the site of the first ever Isle of Wight Festival, which took place at Ford Farm in 1968. Along with its collection of traditional tearooms the village contains an interesting range of shops offering local crafts and produce, such as ciders, pickles, mustards and biscuits. Godshill also has a very popular and highly detailed model village. The medieval All Saints Church (which gave the village its name!) overlooks the village from the hill and is a short but steep climb up either the steps or Church Hollow road.
Day 5
– Depart from the hotel at 10am, arriving back in Spalding at 5pm
The total price for this package is £399 per person. A deposit of £70 per person is required to reserve a place; the remaining balance will be due by Monday 26th March 2018. The remaining balance may be paid in instalments if you wish, but must be paid in full by the due date.
This price will include bed (two sharing a twin or double room), full English breakfast, three course evening meal, and all excursions listed in the itinerary. There are single rooms available to us but please note that these are not in the main hotel.
Please note that insurance is not included, we recommend that you take out your own insurance